To celebrate Talk Like A Pirate Day a bunch of my bento buddies and I are having a big blog hop and GIVEAWAY! After you finish ogling m' Pirate Lassy, continue on to find a scrap of map to the Pirate Booty and head off to claim yer treasure!
Our blond Pirate Girl is a Wowbutter and jelly sandwich decorated with cheese, soy paper and fruit leather. She has a nice big sword for protectin' her treasures – a pile of Pirate Booty, black rice with an egg skull and crossbones, and fruit coins.

The skull and crossbones are made from a quail egg pressed into a skull ice mold, then adorned with picks.
Avast, Thar Be Treasure!
Every blog in the hop has a piece of the map to the bento booty treasure – a big giveaway! As you go through the hop, collect the pieces and put them in the right order to find out where to enter! You'll probably need something to write with, because there are 39 blogs to visit, which means 39 pieces to collect! 37 of the pieces will spell the URL, and 2 bonus words will be your entries to win (yes you get 2 chances to win!)
Arrrr Here Be The Map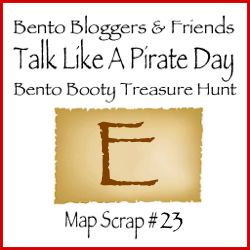 And Here Be A Plan
Needin' some help organizing yer thoughts? Print this here chart to keep yer thinkin' straight.
And Now, Away With You!
Check out Keitha's sea-worthy wonders at Keitha's Chaos and collect the next piece of the map!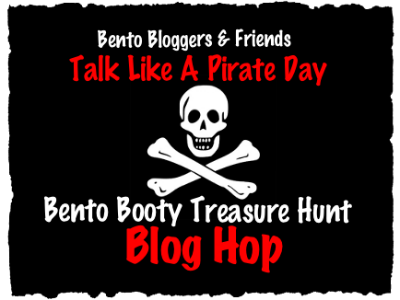 To make this lunch I used: