It's time for another blog hop with the amazing bento bloggers! Make sure you visit the link at the end of this post so you don't miss out on any of the fun (and great ideas!)
For our summertime theme, we have a cutie wearing sunglasses and a drippy yummy ice cream. Both are cheese sandwiches, except for the cutie's ponytails which are Wowbutter. The cutie is decorated with cheese and dye-free organic fruit leather while the ice cream cone is decorated with cheese and dye-free chocolate covered sesame seeds. They are so yummy!
Our cutie is playing in the hard-boiled egg sun with cheese rays. When she's done with the ice cream, she has a fruit beach ball to play with (cantaloupe, honeydew, pineapple) and cherries to munch on.
Don't miss the hop – lots of fun ahead, starting with Molly's Lunch Box!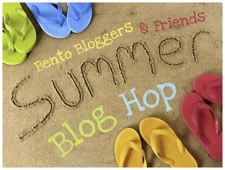 To make this lunch I used: